Community Outreach
Care Harbor LA
September 11 – 14, 2014
Los Angeles Sports Arena
3939 South Figueroa
7:00 am – 5:00 pm daily
KADA been participating for the last 3 years.
KADA will have dinner for all the volunteers on Thursday, Sep. 11, 2014
Volunteer need registration
http://www.careharbor.org/volunteer/


What is Care Hobor?
Care Harbor (Formerly CareNow), a non-profit organization, had their annual free healthcare event at the Los Angeles Sports Arena, September 11- 14, 2014. At last year's event, hundreds of volunteer healthcare professionals assisted in providing over 7000 patient services to the uninsured, underinsured and underserved populations of Southern California.

Care Harbor clinics are community based events, drawing on local health care institutions, agencies and volunteers. Care Harbor event organizers and healthcare professionals work in partnership with local groups to recruit resources and volunteers, coordinate and mange event logistics, and assure the most effective delivery of care.

Last year, the event featured 100 dental stations, an on-site denture lab, and state of the art equipment like the E4D crown milling system.
Starting from 2011, more than 48,000 medical, dental and vision services, including dental fillings, extractions, cleanings, root canals and crowns, partial dentures, eye exams and prescription glasses, exams by primary care physicians and specialists. More than 25,000 screenings and immunizations have been given. All services are at no charge to the patient. More than 70 KADA members including UCLA and USC dental students have participated at the event.

Care Harbor is returning to LA!
Free medical, dental and vision care

September 11 – 14
Los Angeles Sports Arena
3939 South Figueroa
7:00 am – 5:00 pm daily

Wristbands will be distributed on
Sunday, September 7th.
---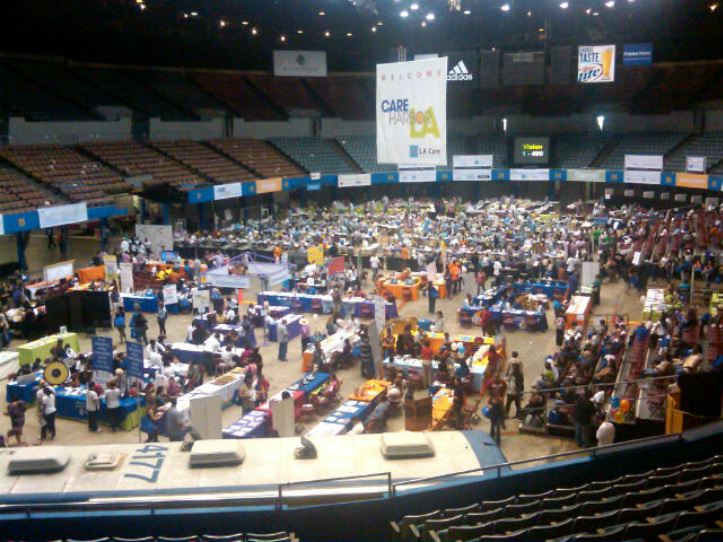 ---
Pomona (Nov 21-22, 2014)
Sacramento (Mar 27-28, 2015)

CDA Cares Volunteer Dental Program


An estimated 10 million Californians experience barriers to dental care. The California Dental Association Foundation and CDA host CDA Cares, a program that allows volunteer dentists, with the assistance of other dental professionals and community volunteers, to provide dental services at no charge to more than 2,000 patients at each event.

Through CDA Cares, the CDA Foundation's efforts to educate the public and policymakers about the importance of good oral health and the need for an adequately funded dental safety net were effective. Adult Denti-Cal benefits eliminated by the state in 2009 will be partially restored in 2014, however, the program remains chronically underfunded and leaves many, including the working poor, without access to care.

How you can help
To help provide oral health care services to the large number of expected patients, we need volunteer dental and health professionals including general dentists, oral surgeons, dental hygienists, assistants, lab technicians, nurses and pharmacists.

Additionally, community volunteers are needed to assist with registration, clinic setup, data entry, escorting patients, translating, and much more.

Patients will receive cleanings, fillings, extractions, oral health education and assistance in finding a dentist for follow-up care.

To get involved, register now.

Upcoming events:

CDA Cares - Pomona

Dates
Friday, November 21, 2014
Saturday, November 22, 2014
Location
Pomona Fairplex, Building 4
1101 W McKinley Ave., Pomona, CA 91768
---
K Town Senior & Community Center Free Exam & Consultation

KADA members include president Dr. Ha held free dental exam and consultation at Korea Town Senior & Community Center at Nov. 19th 2013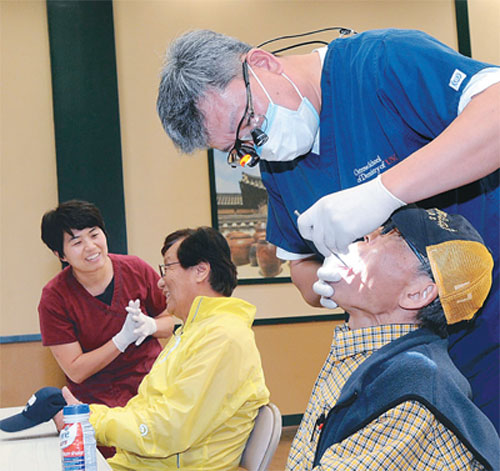 ---
---