---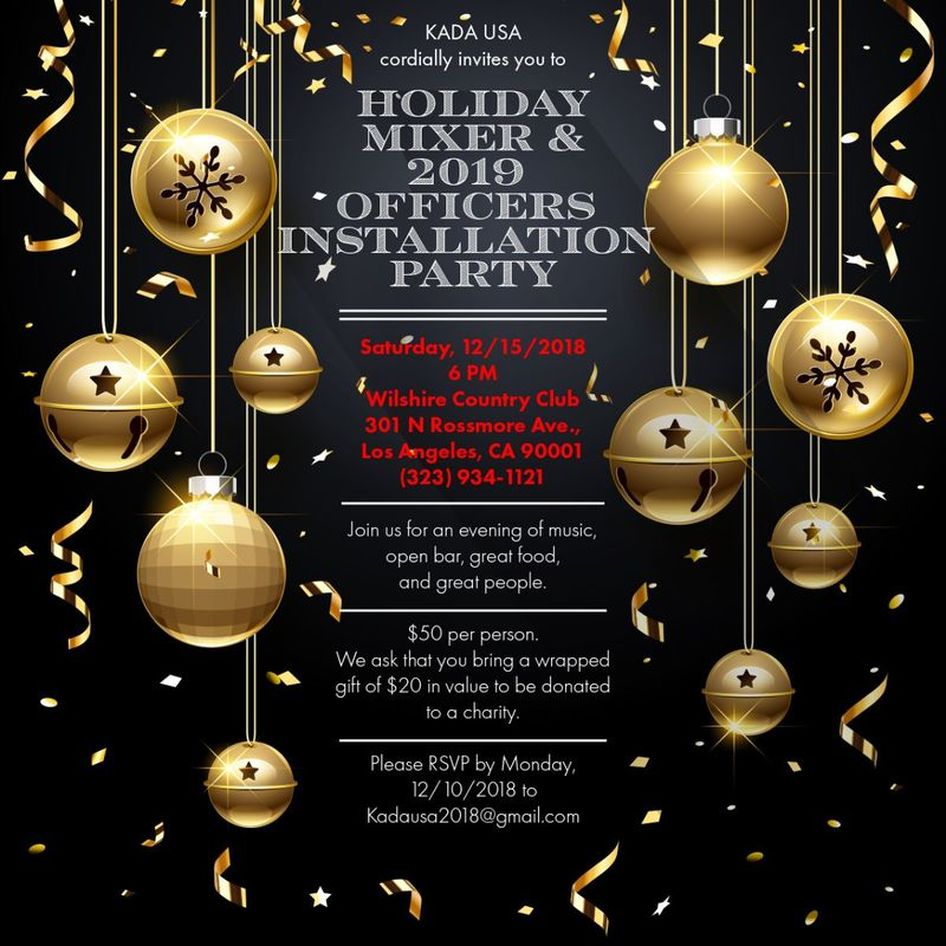 A Letter From The President

​OCTOBER 5, 2018

Dear Colleagues of KADA,

KADA USA is pleased to announce the following members who will serve the KADA USA Executive Committee for the remainder of 2018.

Dr. Pilseong Kim, President-Elect
Dr. Michael Whang, Senior Vice President
Dr. David H. Kim, Vice President

During the Business Meeting held in February 2018, an amendment to KADA Bylaws was passed to
change the term of KADA President from 2 years to 1 year, and make the Executive Committee a ladder system. Appointment is by the President with the recommendation of Leadership Development Committee, whose role is to search and recruit future leaders.

Here are the brief summary of the Executive Committee's biographies and photographs.

Sincerely,

Brian Y. Hong, DDS, MS
President, KADA USA

---
​Dr. Pilseong Kim received his Bachelor of Science in Electrical Engineering and Biomedical Engineering, from the School of Engineering, University of Southern California. He received his Doctor of Dental Surgery from the University of California at San Francisco (UCSF), School of Dentistry. He received his Certificate of Advanced Periodontics and Implant Surgery from Loma Linda University, School of Dentistry.


Dr. Kim's experience includes seven years in private practice as a general dentist in his own office. He was a part time faculty at Samsung Medical Center from 1994 to 2000, He was a part time faculty member of the Periodontics Department, School of Dentistry, Loma Linda University and an advisory board member with Ace Surgical for implant design. He was a mentor for NobelBiocare Mentorship Program. He is an Advisory Board member for Medit which is a world leading company in digital dentistry. He currently is a Lecturer (part time professor) at UCLA School of Dentistry, Periodontics Department and also lectures for Osstem/Hiossen for dentists who want to learn advanced surgical techniques in Implant and Periodontics.

He is also actively involved in organized dentistry. He is a past president of Korean American Dental Association of USA, and is a President-Elect of the Los Angeles Dental Society, a local component of CDA with 1800 members.
---
| | |
| --- | --- |
| | Dr. Michael Whang received his D.D.S. from the University of Southern California in 2003 and followed that with specialty training in Periodontics from the University of California, Los Angeles. His commitment to giving back to his profession through service in organized dentistry has been as a board member of the SFVDS and CDA Delegate for the last year and currently as Secretary and CDA Delegate in 2018. With this experience in leadership in organized dentistry, he is excited to follow in the footsteps of his father, Dr. Sung Bong Whang, and continue the legacy of strong leadership in KADA. |
---
Dr. David H. Kim started his education at U.C.L.A., graduating with a B.S. in Biology. Then he obtained his D.D.S. from Columbia University, School of Dental & Oral Surgery, with an area of concentration in Oral & Maxillofacial Surgery. Then he obtained his M.D. from Medical College of Pennsylvania / Hahnemann University, School of Medicine in Philadelphia. Dr. Kim spent two years as a General Surgery resident and completed his six-year Oral and Maxillofacial Surgery residency at Drexel University, College of Medicine. Then Dr. Kim traveled to the South for facial aesthetics training, including Cosmetic Facial Surgery from L.S.U. and Medical Aesthetics from Florida's Esthetic Skin Institute. He then moved back to California as a staff Maxillofacial Surgeon in the Department of Head & Neck Surgery at Kaiser Permanente San Diego Medical Center.

Currently, Dr. Kim is an attending surgeon at Long Beach Memorial Medical Center and Miller Children's Hospital. In addition to routine oral surgery, his extensive training and practice in facial trauma, oral & maxillofacial pathology, dental implants, reconstruction, orthognathic surgery, maxillofacial cosmetic surgery, and aesthetic medicine enabled Dr. Kim to truly become an expert on the surgery of the mouth, jaws, and face. Furthermore, he is a Continuing Education Provider who gives many presentations on the topics of pathology, implants, reconstruction and aesthetics

Dr. David H. Kim is dually certified by American Board of Oral & Maxillofacial Surgery and American Board of Aesthetic Medicine. He practices the full scope of Oral & Maxillofacial Surgery and Aesthetic Medicine in Long Beach and Los Angeles.
---
Congratulations!
---
KADA Membership 2018
Different categories of membership and membership dues are as listed below:

Active Membership with full member benefits, right & privileges
$150 – One (1) year membership
$250 – One (1) year dentist couple me​mbership for two (2) people.

Recent graduates Membership
Free – Recent two years graduates, Class of 2017 and Class of 2016.

​Students & residents membership
Free – Current students and residents
---
---
Our Sponsors - Click logo to visit their KADA member special pages